Hello, we are -
Novaflon!
МWe clean your inventory and restore non-stick coatings in Ukraine and the near abroad since 2018.
We can be helpful to you if you have a need to repair a damaged non-stick coating, choose the right technology for your application, or apply a coating to a part where it is completely absent.
Pan
Bowl
Bread maker
Dough divider
Pancake maker
Baguette baking sheet
Shaft for printer
Pizza press
Bread baking dish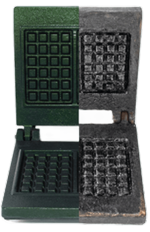 Belgian waffle
Who are our services for?
A little about us
Novaflon technologies are applicable in the production of dumplings, pastry baked goods, cheese, candy and chocolate industries.

On the technical side, we serve the packaging industry, furniture companies, printing industries .

Our developments are a subject of special pride for Novaflon, we are constantly improving our skills, using top coatings to provide the desired result for you.

Odessa, Kyiv, Kharkov… People trust us
2018
In 2018, under the Novaflon trademark, a workshop for the restoration of teflon coatings was launched
2021
In 2021, we are tens of tons of refurbished frying pans, thousands of coated unique engineering details, hundreds of restaurants with recoated inventory.
Our main distinguishing feature is that we have made non-stick coatings our profession.
Fluoropolymer materials are a science, and over the years of work, we can precisely determine that the coating for home pans will not work in a confectionery enterprise, and resistance to wear is not always a guarantee of comfortable use at home. Traditional pan coatings, food grade reinforced coatings, special polymers for chemical resistance. You do not need to understand the intricacies of fluoropolymer materials, our experts will precisely select the best product in Ukraine to meet your specific needs.